Road marking machine is very important aspect while building roads. Our machine designed for road markings. We offer a variety of road marking machines to mark different patterns, for different purposes.Marking machines are easy to manner and light in weight. The road marking machines or Line painting machine can be controlled manually. However, they do have automatic option available.These road marking promotes road safety ensure smooth flow of traffic. Sometimes, road marking are used to supplement the message of road signs and other devices
Road marking is any kind of device that is used on a road surface. We are leading marking machine Manufacturing and Export such as Road Marking machine, Thermoplastic Road Marking Machine, Manual Thermoplastic Road Marking Machine and Semi Automatic Road Marking Machine. Road Marking Machine is used as a mean of controlling and guiding traffic.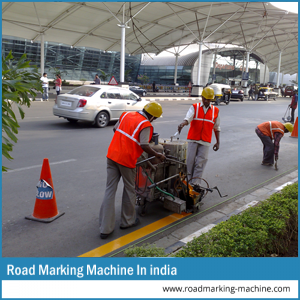 Thermoplastic road marking are created by fusing thermoplastic to the pavement and create alternating elevation and recession patterns. It is used effectively for large Anti-skid areas on roads and pedestrian walkways by adding glass beads. It is the special equipment for road line. Semi automatic marking machine is used for marking and danger signs on roads.
Road surface marking machine can be applied in other facilities used by vehicles to mark parking spaces, to mark Stripes on roads, Parking lots, City streets- to ensure undisturbed flow of vehicles, Bike paths, Side streets, Factory floors, Sports grounds, Railway platform, Highways for traffic control, Intersections, Zebra crossings, Bus-stops, Bridge, Runway, Bombs, dividers, storage area and warehouses.
Road Marking Machine have automatic option available.They come in variety of sizes:
Small size manual road marking machine on the trolley.
Medium marking road marking machine for trailed chassis
Large machine for marking a roadway on the chassis of serial truck.
FEATURES OF ROAD MARKING MACHINE
Exact dimension
Machines are Robust build
Ensuring traffic management
Marking machine is safe to use
It can be easily operated
machine are high tensile strength.
It is used to ability to mark perfectly
Marking machines with multiple heating methods.
It can be controlled manually, choose from automatic or manual ignition method.
Road marking machine sophisticated supply system for heating.
Marking machines are attractive machines that serve every marking purpose