No. 1 semi-automatic Automatic Road Marking manufacturer in India
We Manufacturer of line making machine, white line marking machine, marking in Ahmedabad, India, we can also Supplier, Exporter fully automatic road marking machine. Semi automatic road marking machine is used for marking indication and dangers signs on a road that facilities smooth directional and traffic operation, these products find application mainly in road construction. These machines are Equipped with a paint throwing mechanism and self operating motor, these products help in reducing human labor considerably.
Our Products exporter road equipments such as Road Marking Machine, Semi Automatic Road Marking Machine, Thermoplastic Road Marking Machine, Manual Thermoplastic Road Marking Machine etc. Semi automatic marking machine is Paint Road Line Marking machines connect the road marking machine, the work efficiency improve 2- 3 times. It has also advantages of smooth road, Marking is used to ability to mark perfectly, easy to use.
The high precision marking hopper is made of special alloy finishing.
Application Area Includes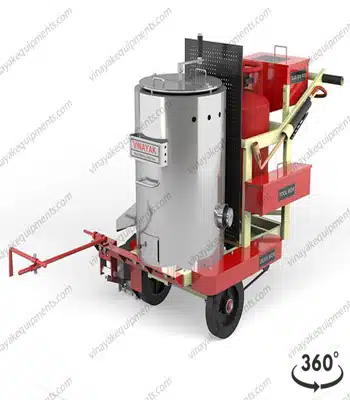 Semi automatic road marking machines are equipped to mark strips on roads, zebra crossing, parking slots, city streets- to ensure undisturbed flow of vehicles, side streets and highway for traffic control.