Manual Thermoplastic Road Marking Machine Manufacturer and Supplier in India
Road Equipments – Vinayak construction equipments is manufacturer of high quality of road construction equipments such as line marking machine, line making machine, white line marking, thermoplastic road marking machine,road sweeper, in India. Manual Thermoplastic road marking machine also called Hand Push Road Liner is used for marking reflective lines such as straight lines, dotted lines, letters, direction arrows, and symbols on highways, parking plots, warehouses, and factories.
Manual Thermoplastic road marking through gravity adjustment, and widened front wheel, the marking machine is more stable than traditional ones when marking 450 mm zebra crossing. It is repeatedly gravity test, re-choose new shaft; the marking machine is much lighter, reduced operator's working intensity so marking works become more effective, easier, and faster.
The high precision marking hopper is made of special alloy finishing.
Application Area Includes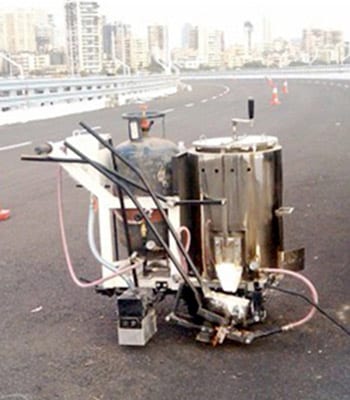 It has the advantage of flow investment, fast, easy maintenance, user-friendly, suitable for the hot melt reflective markings in all kinds of urban roads, vehicle parks, highways, schools, and factories, etc. A manual thermoplastic marking machine is the special equipment for traffic marking construction. It has completed the mark line construction independently.