Road Equipments – Vinayak construction equipments is manufacturer of high quality of road construction equipments such as line marking machine, line making machine, white line marking, thermoplastic road marking machine,road sweeper, in India. Manual Thermoplastic road marking machine also called Hand Push Road Liner is used for marking reflective lines such as straight lines, dotted lines, letters, direction arrows, and symbols on highways, parking plot, warehouse and factory. Manual Thermoplastic road marking through gravity adjustment, widened front wheel, the marking machine is more stable than traditional ones when marking 450 mm zebra crossing. It is repeatedly gravity test, re-choose new shaft; the marking machine is much lighter, reduced operator's working intensity so marking works become more effective, easier and faster.
It has advantage of the flow investment, fast, easy maintenance, user-friendly, suitable for the hot melt reflective markings in all kinds of urban roads, vehicle parks, highways, schools, and factories etc. Manual thermoplastic marking machine is special equipment for traffic marking construction. It has completed the mark line construction independently.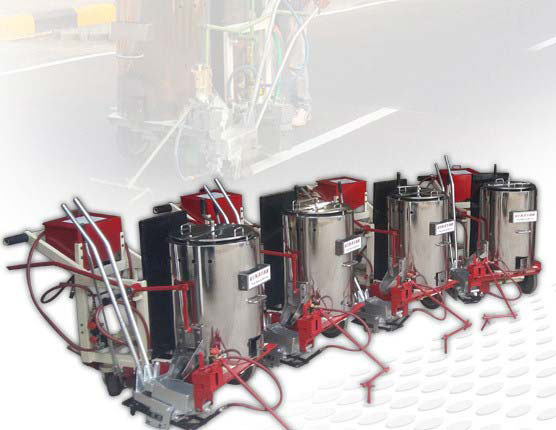 Our machines are extremely durable and safety. This device is simple structure, fast speed, flexible operation, regular lines, and even application integrating the advantages of domestic and overseas similar devices. This type of thermoplastic hand liner has an excellent performance of reflector effect in the night as well as circumstance where light is weak. It can be applied to fields which require high reflection such as urban street and parking slots.
Marking Shoes :
The high precision marking hopper is made of special alloy finishing.
Application Area includes
Side streets
Bike paths
Highways- for guiding and controlling traffic
Motorways
Factory floors and warehouse floors
City roads-for smooth flow of traffic City Street
Features Of Manual ThermoPlastic Road Marking Machine
More stable
Accurate dimension
simple Performance
Long Service life
Less maintenance
The best heat insulation system
The screeding structure makes the markings straight and beautiful
Ideal machine for medium-sized and small marking job in urban roads
Easily operate to ensure the marking speed and quality
Remove covers make it convenient to clean and maintain the kettle
Machine are Dual use, also can change marking shoe for zebra crossing marking
Marking width is 100,a50,200,300mm,and thickness is 1.5-2.5mm through adjusting the screeding knife