We Vinayak equipments are manufacturers road making equipment, line making machine, thermoplastic marking machine, road marking machine, white line marking machine in Ahmedabad, India. Thermoplastic road marking machine for application of hot Thermoplastic making on highways, roads, airports, and other surface, User friendly, Easy to operate for application of precise an extraordinary strength and gives consistent performance and break free operation. Our machine is suitable for small as well as big projects. Thermoplastic Pre-Heater is chiefly utilized for heating, melting and moving thermoplastic marking paints constantly providing hot melted paints for the thermoplastic marking machine while performing the long distance road marking task.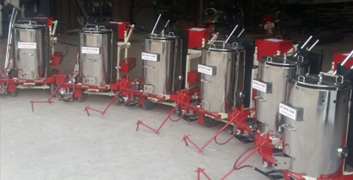 Thermoplastic paint is most common used material of line marking, also called "Hot melt marking paint". It is solid powder before being heated and specialized machine during construction. The paint is melted before being transferred to the marking machine which applies the hot paint at the control of the operator. It has advantage of long life on high volume road, quick set time, good night time visibility and excellent durability. Pedestrians, cyclists and motorists of any kind all reap the benefits of thermoplastic marking machine.
We are Export best high quality Road Equipments, such as Manual Thermoplastic Road Marking Machine, Semi Automatic Road Marking Machine. Thermoplastic markings are great for when the driver might need additional information or, physical signs on the roadside. It is mainly composed synthetic resin and premix glass beads and is used for long term.
For Thermoplastic road marking machine applications you need two machines. Preheated and Applicator, The Thermoplastic paint material which is in powder from need to be put into the Preheated and with the help of LPG,burners needed to be melted.  The molten material is then transferred to the applicator and it is laid as per the requirements.
Application Area includes
Airport and runways
Railway Platform
Factory floor
Side streets
Bus stop
Parking plots
Zebra crossing
Highways for guiding and controlling traffic.
Features Of Thermoplastic Road Marking Machine
Easy operation
Stable performance
Light weight and stable
Marking width can varied
It is easily installed without special equipment.
It is Durable, Providing 5 to 8 Years of service life depending on the traffic environment.
High retro-reflective
Fewer parking spaces
Content a indicator
Less maintenance required
Strong firepower can melt rapidly