We manufacturer our Bitumen Pressure Distributor with excellent quality raw material sourced from reliable vendors. We have designed this equipment according to the latest technology available to- date. This quality tested machine is user-friendly, offers excellent performance, operates at a very good speed in an energy efficient way. These robustly made machines are safe as well as long-lasting. This machine functions accurately, consistently with minimum wastage of liquid asphalt. We are the leading Bitumen Pressure Distributor exporter of India .
Entirely insulated tank with excellent heating system
Air cooled diesel engine as well as positive displacement gear pump
The Design is perfect for standard truck chassis
Safe and effortless operation
Hand spray system
Matchless pressure cleaning system
Quality tested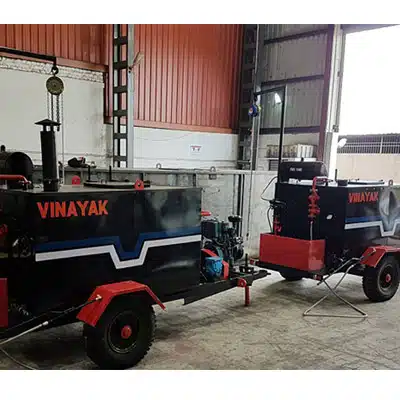 SPRAY BAR
Standard width: 2.4 m
Variable extension bar for spraying width up to 4.2 m
Nozzle distance: 225 mm Nozzle c/c
Pneumatic operated nozzles for spray bar controlling
BITUMEN PUMP
2" x 2", 350 rpm, positive displacement gear pump.
AIR COMPRESSOR
Twin cylindered, 3 hp, 360 rpm capacity with working pressure of 9 kg/cm2
DRIVING UNIT
Powered by 18.5 k watt air cooled diesel engine
BITUMEN SPRAYING PRESSURE
0 – 6 kg/cm2, pressurized bitumen spraying.
TEMPETATURE INDICATORS
0 – 3000 C analog scale located on the tank.
Digital temperature indicator on remote box
Tank Details

TMB-3000

TMB-4000

TMB-6000

TMB-7000

Length-L
2100 mm
2400 mm
3000 mm
3300 mm
Width-W
1800 mm
1800 mm
1860 mm
1860 mm
Height-H
1500 mm
1500 mm
1810 mm
1810 mm
Capacity
3000 liters
4000 liters
6000 liters
7000 liters
Manhole
600 mm
600 mm
600 mm-2 nos.
600 mm-2 nos.
Insulation
50 mm
50 mm
50 mm
50 mm
Shape
Rectangular oval shape
Rectangular oval shape
Rectangular oval shape
Rectangular oval shape

Burner

Type
Compressed air type
Compressed air type
Compressed air type
Compressed air type
Burner Fuel Tank
50 liters
50 liters
50 liters
50 liters
Engine Fuel Tank
20 liters
20 liters
20 liters
20 liters
Service Tank
20 liters
20 liters
20 liters
20 liters

Recommended Chassis

Wheel Base-WE
3760 mm
3760 mm
4470 mm
4470 mm
Clear Chassis Length – CL
4550 mm
4850 mm
5450 mm
5750 mm